The larger scans, available via this page, are WAY bigger than the foldable card to aid legibility.
Click on any of the page scan for a larger (approx 50/140 KB) version.

Please excuse the watermarks I have added.

This manual is dated 1989 & refers to the 972 movement. Everything OK till now, but look at the first page. We are talking about a SPEEDMASTER here. WOH !! A Speedmaster pocket watch ?


Chuck Maddox asked Omega Vintage Information about this leaflet/watch. He got the following reply.

This looks to be a confusing story but in fact it's not so wild .. !
The name "Speedmaster" was certainly not the right name to be given to an 18K Solid Gold pocket watch of the "Louis Brandt" Collection, produced in 1984.
This pocket watch having a perpetual calendar movement of cal. 972 has only been produced in 15 units.
Therefore, the "instruction booklet" which seems to be of such great interest is in fact something very simple and exists in German and in English in our archives

So there we have it. It was wrongly named on the instructions leaflet. or is there more ??? Look at the following scans, then I'll present some more Info.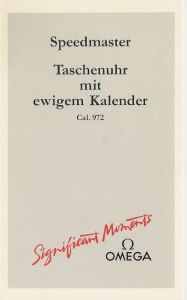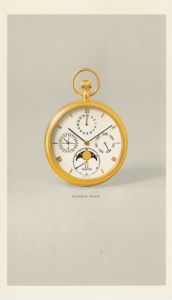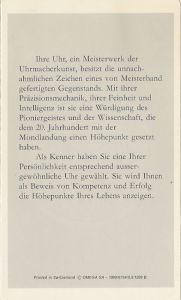 Whilst writing & checking the HTML for this page, I noticed a slight discrepancy in the dates. The manual is CLEARLY dated 1989. ( see the very bottom of the last page ). BUT, OVI ( Omega Vintage Information ) state this model was made in 1984 & only 15 were made.
I happen to have a Louis Brandt Catalogue dated 1985 :-) Here are a couple pages from it featuring the perpetual calander pocket watch.





Same watch ? Well it looks like it. BUT check out the Logo just below the Moonphase subdial. It is CLEARLY a Louis Brandt watch in the Catalogue & CLEARLY an Omega in the 5 year newer Owners manual.
Closer inspection also shows that the hands are different. The dial in the Owners manual has applied gold numbers for the hour markers & no minute track around the edge of the dial. etc etc.
Is it possible that we have 2 different watches here ? or did Omega make that many changes over 5 years in 15 watches ?


OK, so lets look at Omega SAGA.
In the movements section they list the 972 movement as only being made 15 times ( for the mid eighties Louis Brandt watches ).

BUT when you look at the Speedmaster section ( year 1990 - page 393), there is some french text, which Georges Zaslavksy translated for me.

That says :-
1990, Launched in spring - beginning with the Italian market -The Speedmaster Classic collection, which strenghtens the position of the brand in the field of complicated watches. - It is composed of a pocket watch with a perpetual calendar and three automatic wristwatches of which one is a womens moonphase (which don't have speedmasters because of the case's form), as well as the chronograph calendar-calibre 1150, based on the valjoux 7750, with moon phase, analogue date display, date and months windows and a 24hours display on the small seconds. Each piece is delivered with a booklet "Omega and the century of Strong Times" illustrating the man's achievement on the air, land and in the sea.


Hmmmm..... So this appears to directly contradict some of the other info that we have (currently) at hand.


So what have I proved here ? Nothing. I still have no idea. But my manual DOES feature a non-Louis Brandt watch from 1989. Sleep well :-)


---





This page was written by Steve Waddington & last updated on 12 July 2006


If you have an Omega Manual or Catalogue, that you'd like to share, please feel free to E-mail me a copy.

I don't think Omega will have a problem with me reproducing these pages on the internet. They are good enough quality that they can be used, but not so good that people can copy, print & sell them as originals.
I have written this page to share the limited knowledge & information I have. Please don't abuse me, my work or other peoples pictures. It's not a nice thing to do !

Finally, It pisses me off that I have to write a disclaimer like this !

I am sick of seeing copies of brochures being sold with watches in eBay for ridiculous sums


---
Back to the index page